Pennsylvania IRP & IFTA (PA Trip & Fuel)
---
What is a Trip Permit?
Trip permits are permits that can be purchased for $112.50 for a five (5) day period in lieu of purchasing decals for motor carrier road tax or IFTA. Operations conducted under a trip permit need not be reported.
Do I Need a Trip Permit?
A vehicle subject to MCRT and IFTA is a qualified motor vehicle which is one designed, used or maintained for the transportation of persons or property and does not have IFTA which is either:
A power unit with two axles and a gross or registered gross weight greater than 26,000 pounds

A power unit with three or more axles regardless of weight; or

A combination where the declared combination weight exceeds 26,000 pounds, or where the vehicles used in combination (truck and trailer) exceeds 26,000 pounds
A temporary trip permit will be required if you fit any of the above qualifications.
State Pricing for Permits
Pennsylvania 5-Day Fuel Trip Permit - $112.50
Expiration Time - 5 days
Pennsylvania 72-Hour Trip Permit - $54.50
Expiration Time - 72 hours
Coast2Coast and the State of Pennsylvania do not provide refunds.
International Registration Plan
Pennsylvania is a member of the International Registration Plan (IRP), which is an agreement providing for registration reciprocity among member Jurisdictions. Vehicles weighing in excess of 26,000 lbs. that are nonapportioned registered vehicles requiring temporary interstate travel must; obtain a temporary trip permit or be apportioned registered. A 72-hour trip permit is required before operating an apportionable vehicle in Pennsylvania.
To qualify as an apportionable vehicle, the power unit that is used or intended for use in two or more member jurisdictions for the transportation of persons for hire or designed, used, or maintained primarily for the transportation of property, and:
has two Axles and a gross Vehicle weight or registered gross Vehicle weight in excess of 26,000 pounds (11,793.401 kilograms), or
has three or more Axles, regardless of weight, or
is used in combination, when the gross Vehicle weight of such combination exceeds 26,000 pounds (11,793.401 kilograms).
Penalties
Penalties can range from $100 to $500. You will also be required to purchase a trip permit and may be subject to seizure of your vehicle. If seizure of your vehicle occurs your vehicle will not be released until all money is paid to the state.
Instant Permits
Instant Permits offers you a safe, secure, and immediate way to obtain your temporary trip permits. All you need is access to the Internet and you can purchase your temporary permits online. Simply download and print your permit, or we can email or fax it to you.
Benefits
Instant Permits provides a fast and easy way to obtain your trip permits. Not in your office? No problem, with Instant Permits you can get your permits sent where ever you need. Instant Permits also provides access to all of your past orders for record keeping.
Permit Sample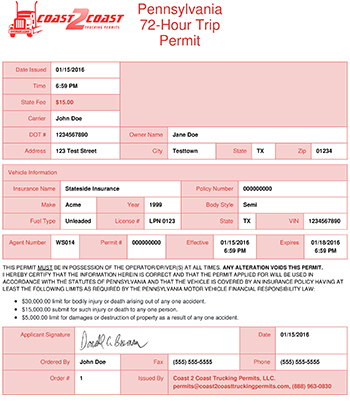 Required Information for Obtaining an Instant Permit
By state law, both company and vehicle information are required to obtain an instant permit.
Company
Address

City

Company Name

State

Zip
Vehicle
Base State

License #

Make

Operator/Driver

Owner/Lessee

Unit #

VIN

Year
Contact us today if you would like further information, or if you need assistance.