North Carolina IRP & IFTA (NC Trip & Fuel)
---
State Pricing for Trip and Fuel Permits
North Carolina 10-Day Trip Permit - $57.00
Required for carriers based elsewhere that do not have North Carolina on their IRP cab card. Must have prior to entry into North Carolina. Valid in North Carolina only.
North Carolina 3-Day Fuel Permit - $87.50
Carriers that do not have an IFTA license must have a fuel permit for each state when operating interstate. Drivers must have this permit prior to entry into North Carolina. Valid in North Carolina only.
Expiration Time - Fuel permits are valid for 3 days from the date of issue, and must be carried in the vehicle at all times while you're in North Carolina.
Permits are necessary for carriers based in another jurisdiction when traveling into North Carolina who are not properly registered for North Carolina. This permit allows interstate and intrastate movements. Seventy two hour permits are vehicle specific. The permit cost is determined by permit type(s) selected. The state of North Carolina does not provide refunds. Coast2Coast does not provide refunds.
IFTA General Information
The International Fuel Tax Agreement (IFTA) is a base state fuel tax agreement. Any person based in member jurisdiction operating a qualified motor vehicle(s) in two or more member jurisdictions is required to license under this agreement or purchase fuel trip permits for travel in member jurisdictions.
Qualified Motor Vehicle - a motor vehicle used, designed or maintained for the transportation of persons or property and:
Having two axles and a gross vehicle weight or registered gross vehicle weight exceeding 26,000 pounds or 11,797 kilograms;  or

Having three or more axles regardless of weight; or

Used in combination when the weight of such combination exceeds 26,000 pounds or 11,797 kilograms gross vehicle weight or registered gross vehicle weight. Qualified vehicles do not include recreational vehicles.
Farm vehicles, special mobile equipment and buses are subject to IFTA Licensing requirements if they meet the gross vehicle weight or axle criteria and cross state lines.
Any motor carrier whose base jurisdiction is North Carolina and operates one or more qualified motor vehicles in at least one other IFTA member jurisdiction must apply for North Carolina IFTA credentials or fuel trip permits must be obtained to travel through member jurisdictions according to the regulations of each member jurisdiction.
If a qualified motor vehicle does not participate in IFTA, then a 3-day temporary (fuel) trip permit must be purchased to travel in the state of NC.
Cost of permit and processing fee: $87.50
Penalties
Penalties can range from $100 to $500. Are you planning to do business in, or travel through North Carolina? If you have a vehicle registered outside the state of North Carolina, regulations state that temporary trip (IFTA) and fuel-use permits must be purchased before you enter the state or else you will be subject to seizure of your vehicle. If seizure of your vehicle occurs your vehicle will not be released until all money is paid to the state.
Instant Permits
Instant Permits offers you a safe, secure, and immediate way to obtain your temporary fuel and trip permits. All you need is access to the Internet and you can purchase your temporary permits online. Simply download and print your permit, or we can email or fax it to you. You can also buy trip permits online using the same quick and easy method.
Benefits
Instant Permits provides a fast and easy way to obtain your Trip and Fuel permits. Not in your office? No problem, with Instant Permits you can get your permits sent where ever you need. Instant Permits also provides access to all of your past orders for record keeping.
Permit Sample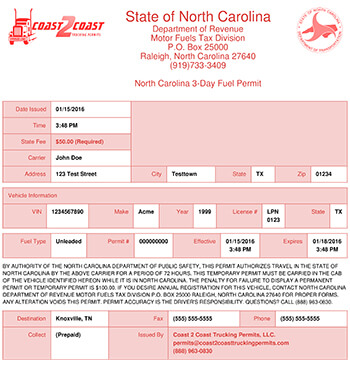 Required Information for Obtaining an Instant Permit
By North Carolina state law, both company and vehicle information are required to obtain an instant fuel permit.
Company
Company Name

Address

City

State

Zip
Vehicle
Owner/Lessee

VIN

Operator/Driver

Make

Year

License #

Base State

Unit #