Ohio IRP (OH Trip)
---
Ohio Temporary Trip Permits Explained
Temporary IRP permits are issued for registered commercial vehicles in lieu of IRP credentials when the vehicle will be traveling outside of the jurisdiction in which the vehicle is licensed. Commercial carriers should secure temporary IRP permits online, by mail or by fax prior to entering the jurisdiction they wish to travel in. These permits may only be obtained from authorized establishments that are approved to sell single trip fuel permits in the State of Ohio. Trip permits are valid for 72 hours from the time they are obtained.
State IRP Trip Permit Pricing
Ohio 72-Hour Trip Permit - $54.50
Ohio Fuel Permits
Fuel permits are valid for 24 hours. Instant fuel permits cannot be currently obtained, and they are not available on the website. Please contact us at 1 (888) 963-0830 for further information or questions about obtaining a fuel permit.
Coast2Coast does not provide refunds.
Qualifications
Registration under IRP is not required. This program is for licensing trailers, buses, and commercial trucks that will be traveling in the State of Ohio and in at least one other IRP jurisdiction. If the commercial vehicle will be used for transporting persons for hire, or if it is designed, maintained, or used for the primary purpose of transporting property and meets one or more of the below standards, then and IRP permit should be obtained:
The vehicle is a power unit that has at least 2 axles and gross vehicle weight that is more than 26,000 pounds.

The vehicle is used in combination, and the gross combination weight is more than 26,000 pounds.
Established Place of Business
Under IRP, base jurisdiction is the jurisdiction where the registrant's established business is located, andwhere their fleet is maintained and operated. An established place of business is defined as a physical structure that is rented, leased, or owned by the registrant. The registrant's physical structure shall have a road location or street number, normal business hours, a telephone in the name of the registrant, people conducting normal business operations, and it should have fleet records on-site.
Penalties
Penalties could include the following:
Fines of anywhere from $100 to $500

Vehicles could be seized until fines are paid.
Benefits
Instant Permits provides a fast and easy way to obtain your trip permits. Not in your office? No problem, with Instant Permits you can get your permits sent where ever you need. Instant Permits also provides access to all of your past orders for record keeping.
Permit Sample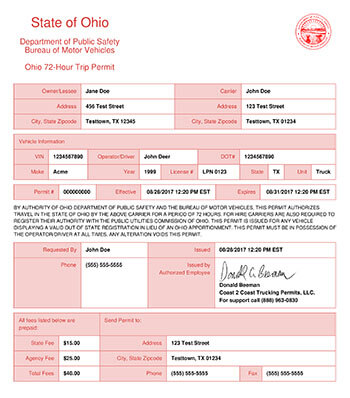 Instant Permits
You can purchase temporary trip trucking permits online securely and safely. These permits can be faxed or mailed as well. It is beneficial to purchase the permits online, because it is the fastest, safest, and most convenient way to obtain an IRP permit. The information that is required by Ohio state law is as follows:
Company
Address

City

Company Name

State

Zip
Vehicle
Base State

License #

Make

Operator/Driver

Owner/Lessee

Unit #

VIN

Year
Contact us today if you would like further information, or if you need assistance.