New York IRP (NY Trip)
---
State Pricing for Trip Permits
72-Hour Trip Permit ( 3 days)
State Fee - $58.25
An IRP 72-Hour Trip Permit is issued in lieu of IRP plates for travel within New York. This permit allows both inter or intra State movement in New York.
Trip permits are required for any vehicle that has:
Three or more axles, including the steer but not counting the trailer.
That has a gross or registered weight that exceeds 26,000 lbs
Penalties
Penalties could include the following:
Fines
Vehicle Seizure
You may be required to purchase a permit before continuing with your journey.
Benefits
Instant Permits provides a fast and easy way to obtain your trip permits. Not in your office? No problem, with Instant Permits you can get your permits sent where ever you need. Instant Permits also provides access to all of your past orders for record keeping.
Permit Sample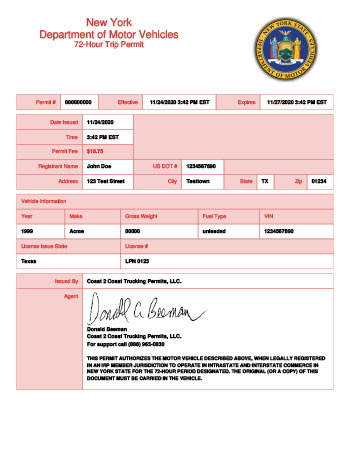 Required Information for Obtaining an Instant Permit
By state law, both company and vehicle information are required to obtain an instant permit.
Company
Registrant

Address

City

State

Zip
Vehicle
Base State

License #

Make

Fuel Type

Weight

Unit #

VIN

Year
Contact us today if you would like further information, or if you need assistance.