Louisiana IRP (LA Trip)
---
Louisiana Trip Permits Explained
A Louisiana trip permit is a permit that is temporarily issued in place of IRP credentials for registered vehicles that are not licensed in the jurisdiction where immediate travel is necessary. If you need an IRP trip permit, you can apply for temporary trip trucking permits online prior to entering a jurisdiction where you are not apportioned. In the State of Louisiana, a temporary IRP permit costs $50.00, and is valid for 48 hours from the time it is obtained.
Who Needs a Trip Permit?
It is not mandatory to be registered with the International Registration Plan (IRP). This program is for buses and commercial trucks that intend to travel in Louisiana and in at least 1 other jurisdiction. It is also used for commercial vehicles that will be transporting persons for hire and for commercial vehicles that will be primarily used and maintained for property transportation purposes. If the vehicle meets any of the below standards and exits Louisiana for commercial purposes, then it should have an apportioned plate or a temporary IRP permit.
The truck is a power unit that has gross total vehicle weight that exceeds 26,000 lbs. and 2axles; or the truck is a power unit that regardless of weight has 3 or more axles or is used in combination when the combination gross weight exceeds 26,000 pounds.
If your vehicle is less than 26,000 pounds and only has two axles, then you may or may not require an apportioned plate.
State Pricing for Trip Permits
Louisiana 48-Hour Trip Permit - $89.50
Coast2Coast and the State of Louisiana do not provide refunds.
Penalties
Penalties could include the following:
Fines of $100 to $500

Vehicle Seizure

You may be required to purchase a permit before continuing with your journey.
Benefits
Instant Permits provides a fast and easy way to obtain your trip permits. Not in your office? No problem, with Instant Permits you can get your permits sent where ever you need. Instant Permits also provides access to all of your past orders for record keeping.
Permit Sample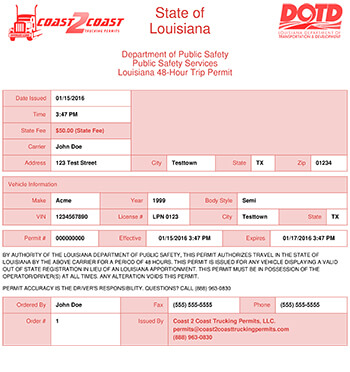 Instant Permits
Instant permits can be obtained online safely and securely. Simply give the required informationonline, and you can print the permit instantly, or you can have it emailed or faxed. This method is extremely beneficial if you are on the go or need to obtain a permit quickly. Company and vehicle information will be required to receive an instant permit. The following information will be required by state law:
Company
Address

City

Company Name

State

Zip
Vehicle
Base State

License #

Make

Operator/Driver

Owner/Lessee

Unit #

VIN

Year
Contact us today if you would like further information, or if you need assistance.