Alabama Permits
---
State Pricing for Fuel and Trip Permits
7-Day Fuel Permit - $49.95
7-Day Trip Permit - $49.95
Combined 7-Day Trip & Fuel Permit - $69.95
Vehicles that are subject to International Registration Plan (IRP) and International Fuel Tax Agreement (IFTA) licensing requirements must obtain an IFTA fuel license and decal and an IRP license plate and cab card before operating interstate. An IRP trip permit and IFTA fuel permit may be obtained in place of IRP and/or IFTA licensing. Vehicles qualifying under IRP and IFTA must operate interstate and have a weight of at least 26,000 lbs. or have three axles on the power unit. A seven-day IFTA fuel permit and a seven-day IRP trip permit is available for $20 plus any processing fees associated with the application. A combination IFTA/IRP trip and fuel permit is also available for $40 plus any processing fees associated with the application. All permits are good for seven (7) days and they must be obtained before a registrant enters into the State of Alabama. Permits issued in lieu of apportioned (IRP) or full registration and motor fuel tax licensing (IFTA).
Penalties
Penalties could include the following:
Fines of $100 to $500

Vehicle Seizure

You may be required to purchase a permit before continuing with your journey.
Benefits
Instant Permits provides a fast and easy way to obtain your trip permits. Not in your office? No problem, with Instant Permits you can get your permits sent where ever you need. Instant Permits also provides access to all of your past orders for record keeping.
Permit Sample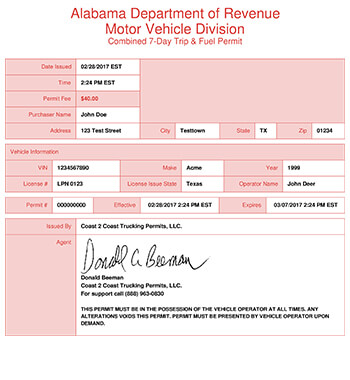 Instant Permits
Instant permits can be obtained online safely and securely. Simply give the required informationonline, and you can print the permit instantly, or you can have it emailed or faxed. This method is extremely beneficial if you are on the go or need to obtain a permit quickly. Company and vehicle information will be required to receive an instant permit. The following information will be required by state law:
Company
Purchaser Name

Address

City

State

Zip
Vehicle
Operator/Driver Name

License #

License Issue State

Make

VIN

Year
Contact us today if you would like further information, or if you need assistance.