Delaware IRP & IFTA (DE Trip & Fuel)
---
State Pricing for Trip and Fuel Permits
Delaware 72-Hour IRP Trip Permit - $52.50 Interstate
Required for carriers based elsewhere that do not have Delaware on their IRP cab card. Must have prior to entry into Delaware. Valid in Delaware only.
Delaware 72-Hour IFTA Fuel Permit - $52.50 Interstate
Carriers that do not have an IFTA license must have a fuel permit for each state when operating interstate. Drivers must have this permit prior to entry into Delaware. Valid in Delaware only.
Expiration Time - Permits are valid for 72 hours from the date of issue, and must be carried in the vehicle at all times while you're in Delaware.
A 72-Hour Permit can be issued for Reciprocity Trip and/or Fuel permits. Permits are necessary for carriers based in another jurisdiction when traveling into Delaware who are not properly registered for Delaware. This permit allows interstate and intrastate movements. Seventy two hour permits are vehicle specific. The permit cost is determined by permit type(s) selected. Permits are valid for 72 hours/3 days. The state of Delaware does not provide refunds. Coast2Coast does not provide refunds.
When is an IRP/IFTA permit required?
Carrier operates in two or more jurisdictions

The power unit licensing weight is 26,001 lbs., or higher

The power unit has more than two axles regardless of licensed weight

The power unit is used in combination and the said combination is 26,001 lbs. or higher; or

The power unit performs commercial intrastate movements in Delaware, regardless of licensed weight
Exempt Vehicles
Commercial vehicles – Traveling entirely intrastate (within a jurisdiction) - such as those used for city pickup and delivery vehicle(s) or vehicles that display restrictive plates, which have geographic area, mileage or commodity restrictions

Recreational vehicles – such as motor homes, pickup trucks with attached campers, and buses when used exclusively for personal pleasure by an individual. In order to qualify as a recreational vehicle, the vehicle shall not be used in connection with any business endeavor

Government owned vehicles
Penalties
Penalties can range from $100 to $500. Are you planning to do business in, or travel through Delaware? If you have a vehicle registered outside the state of Delaware, regulations state that temporary trip (IFTA) and fuel-use permits must be purchased before you enter the state or else you will be subject to seizure of your vehicle. If seizure of your vehicle occurs your vehicle will not be released until all money is paid to the state.
Instant Permits
Instant Permits offers you a safe, secure, and immediate way to obtain your temporary fuel and trip permits. All you need is access to the Internet and you can purchase your temporary permits online. Simply download and print your permit, or we can email or fax it to you. You can also buy trip permits online using the same quick and easy method.
Benefits
Instant Permits provides a fast and easy way to obtain your Trip and Fuel permits. Not in your office? No problem, with Instant Permits you can get your permits sent where ever you need. Instant Permits also provides access to all of your past orders for record keeping.
Permit Sample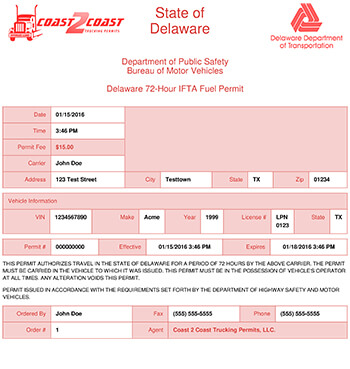 Required Information for Obtaining an Instant Permit
By Delaware state law, both company and vehicle information are required to obtain an instant trip and/or fuel permit.
Company
Company Name

Address

City

State

Zip
Vehicle
Owner/Lessee

VIN

Operator/Driver

Make

Year

License #

Base State

Unit #